2023 7th International Conference on Applied Economics and Business | Copenhagen, Denmark, August 25-27, 2023
---
---
General information
ICAEB2023 7th International Conference on Applied Economics and Business will be held in Copenhagen, Denmark, August 25-27, 2023. It aims to provide a forum for researchers, practitioners, and professionals from the industry, academia and government to discourse on research and development, professional practice in applied economics and business.
ICAEB has a proven track record of success with the first conference held in Amsterdam in 2017, the second one in Rome in 2018, the third one in Athens in 2019, and both the fourth and fifth one as a virtual conference in 2020, 2021 subsequently. Six ICAEB was held as a hybrid event during August 24-26, 2022. ICAEB series always bring the authors together for discussion and exchange of ideas concerning theoretical and practical aspects of applied economics and business.
CFP Download
• One Best Oral Presentation will be selected from each oral session. The Certificate will be awarded right after each session ends, so please stay the whole duration of the session.
pUBLICATION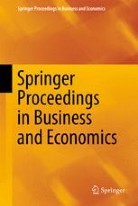 Submitted papers must be original and contain work that has not been published before or is under review elsewhere. Accepted papers will be published by Springer Nature as part of the Springer Proceedings in Business and Economics book series (SPBE, e-ISSN: 2198-7254, print ISSN: 2198-7246), which will be submitted to be indexed by Scopus, zbMATH, etc.

Note: For those who're NOT looking to publish their papers, it's acceptable to submit your abstracts to the conference just for oral presentation without publication, which will be sent to at least two technical committees for a brief review.
Recent News
The Springer proceedings of ICAEB 2022 will soon be available online. (Click)

7th ICAEB 2023 will be held in Copenhagen during August 25-27, 2023. We welcome your participation. (Click)

ICAEB 2022 was held as a hybrid event, 100% In-person in Stockholm, 100% virtually during August 24-26, 2022.(Click)

ICAEB 2022 will be will be held in Stockholm, Sweden, August 24-26, 2022. We look forward to your submission. (Click)

Like last year, ICAEB 2021 has also been held as a virtual conference due to the covid-19 pandemic. (Click)

The submission deadline of ICAEB 2022 has been extended to June 30. (Click)
Important Dates
| Submission Deadline | April 15, 2023 |
| --- | --- |
| Acceptance Notification | May 10, 2023 |
| Registration Deadline | May 20, 2023 |
| Conference Dates | August 25-27, 2023 |
---
---